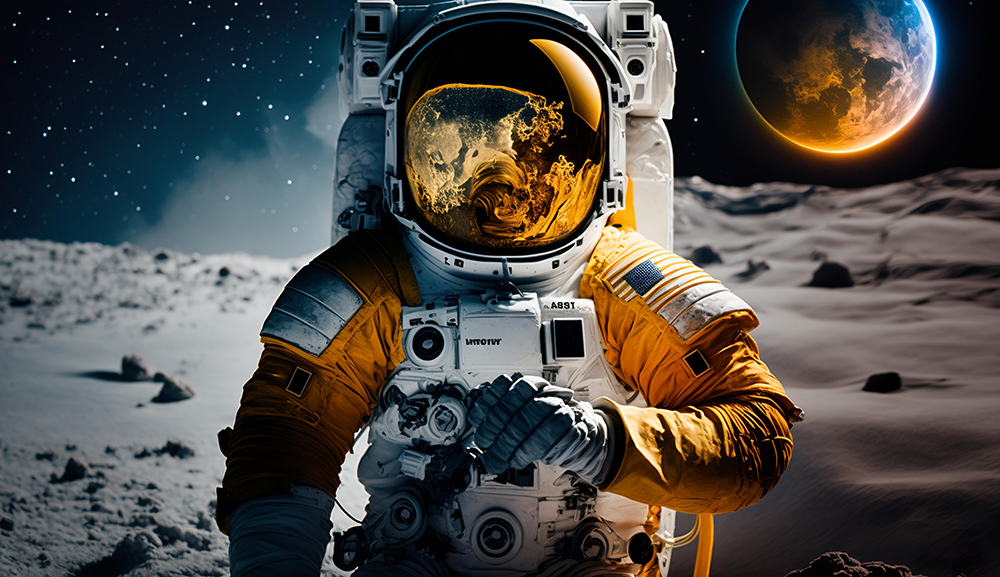 Prompt
Begin by researching reference images of astronauts and spaceships to get a sense of their proportions, shapes, and materials. Look for high-quality images of the planet you want to depict, paying attention to the colors, textures, and shapes of the terrain. Consider the lighting conditions in space, which are dramatically different from those on Earth. There is no atmosphere to scatter the light, so shadows are very dark and sharp, and there is a strong contrast between light and dark areas. Use this knowledge to create a realistic sense of depth and dimension in your image.
Next, create a rough sketch of the scene, focusing on the placement of the astronaut and the ship in relation to the planet. Pay attention to the composition, trying to create a sense of balance and harmony. Once you have a rough sketch, begin adding more details and refining the shapes. Consider the textures of the astronaut's suit and the ship's surfaces, as well as the details of the planet below. Use a combination of reference images and your own creative vision to add realistic details to the scene.
As you work on the image, pay close attention to the lighting and shadows. Use a range of tones to create a sense of depth and dimension, and experiment with different shading techniques to create a sense of texture and form. Be sure to include small details, such as reflections in the astronaut's helmet and the shine of the ship's metal panels, to create a sense of realism.
Finally, consider the emotions you want to convey in the scene. Do you want to capture the sense of awe and wonder that comes from viewing the planet from space, or the sense of isolation and danger that comes from being alone in a hostile environment? Use lighting, composition, and color to create a mood that reflects these emotions, and keep refining the image until it feels complete and realistic --ar 16:9